FibNodes™ - Designed by Joe DiNapoli.
Order Now

---
An inexpensive alternative that allows accurate and organized trading utilizing D-Levels™.
Popular charting software can't display
Fibonacci Retracements correctly!
FibNodes™ is designed by traders for traders.
Many traders start out using popular charting software to display Fibonacci projections and retracements. Unfortunately these packages are only able to display basic Fibonacci retracements, leaving you with an inadequate picture.. In addition, most charting packages force you to display all the possible retracements, making it effectively impossible to use their Fibonacci tools effectively (the display becomes a meaningless clutter).

Below we have listed a very simple example of how we predicted FORE ( a publicly traded company ) to find resistance as it rallied up to the $20.84 area. Fore actually rallied up to $20.50, very close to the predicted resistance area before turning down again. Readers of Trading with DiNapoli Levels will be able to understand how me made the prediction based on the FibNodes screen below.

Compare the FibNodes screen to the confusing screens from MetaStock and TradeStation below. The difference between using FibNodes and standard charting packages becomes even more striking when the analysis requires additional inputs. If you are trading intra day, the exercise becomes impossible without the clarity and utility of FibNodes software. You may use standard charting packages for displaying graphics and certain indicators. But use FibNodes for advanced Fibonacci analysis.
---
FibNodes™ screen display.
Clean, clear, simple.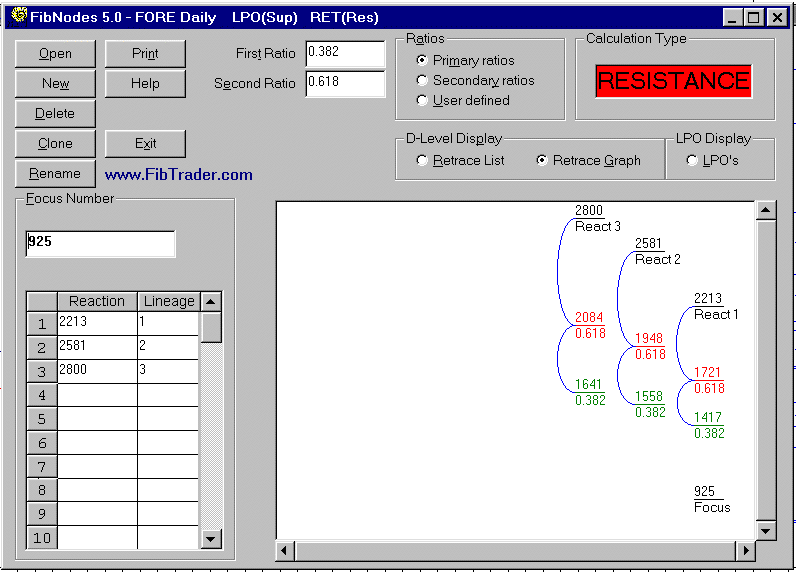 ---
MetaStock™ screen display.
How do you trade with this information? What are the chances of making an expensive mistake?.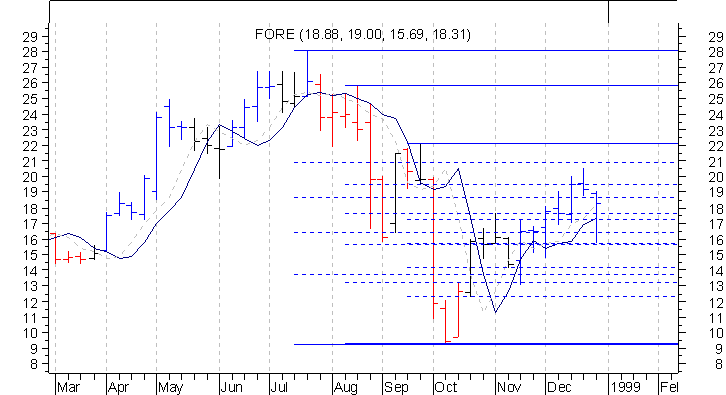 ---
TradeStation™ screen display.
This software does provide some control over which retracements are displayed, but it still displays only basic Fibonacci retracements. The result is a mess of color.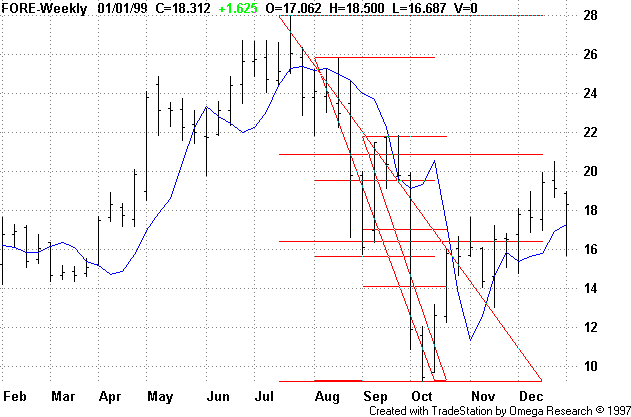 Experienced traders know that using the right tools is essential. For only $195.00 you can use the tools of professional Fibonacci traders. Don't wait for a trade caused by the confusing display of a spreadsheet or popular charting package to convince you.